Reading Time:
5
minutes
The ranch house style has been around since before the 1950s on southwestern ranches. It was designed to help alleviate heat and give the ranchers somewhere to live that didn't take up too much of their land. And after World War II, when soldiers came home and wanted a small, humble abode to raise their families in, ranch style houses began to pop up like wildflowers all around the United States.
Ranch-style houses have continued to be one of the most popular housing styles ever since. Their unique layout, charming cinematic feel, and open backyard leave little to want from this one-story palace.
Below, we have captured the exterior elements of the modern ranch style home so you can copy the look for your own ranch-inspired paradise.
The Textures and Siding of a Ranch-Style Home
Ranch homes are often monochromatic, ranging from a buttercup yellow to a charcoal gray. The color is not nearly as important as the siding material. In fact, to offset the relatively bland, monochromatic exterior, ranch houses often make use of more than one siding material.
For example, a smoky gray stucco home exterior could be accented with the addition of a stone veneer. The smoky gray in the stone will pair well with the stucco. Plus, the stones in the veneer offer a subtle accent color (such as cream, red, or blue).
Wood, stone, brick, and stucco are the most common choices for siding on ranch homes and, in some cases, all four are used on one house!
Don't be afraid to really mix siding options all over the exterior of your house. From fences, porches, doors, columns, garages, sidewalks/driveways, and siding–everything can be a different material. As long as you are mixing, you're doing something right.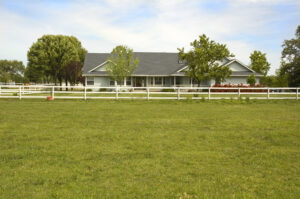 A Ranch House's Roof and Materials
The roof of a ranch home is pretty unique to the style. Since ranches are designed to let out as much heat from the home as possible, and since heat rises, long, low-pitched roofs with deep overhanging eaves are popular.
Gable or hip roofs are the most common. But as the contemporary fashion of flat roofs on homes becomes more prominent in housing design, more and more flat-roofed ranch homes are popping up.
Ranch roofs are generally made of metal, asphalt, clay, or concrete. Clay and concrete will give it a more Spanish ranch vibe while the metal and asphalt are more universally accepted and easy to match with other houses in the neighborhood.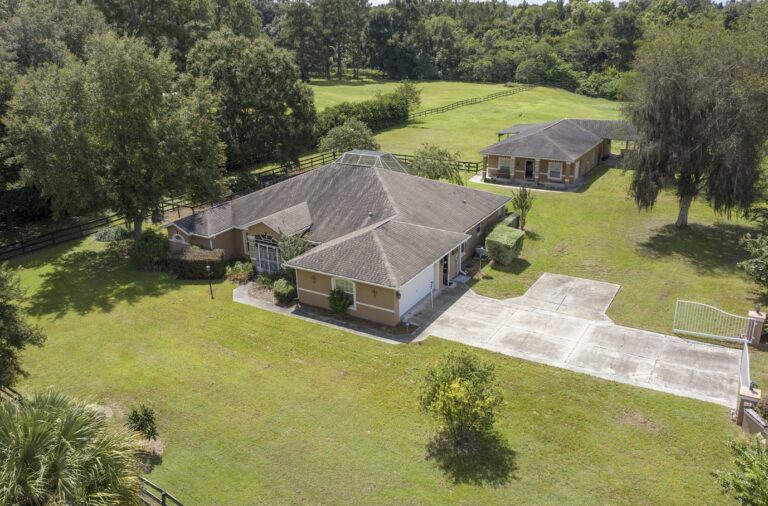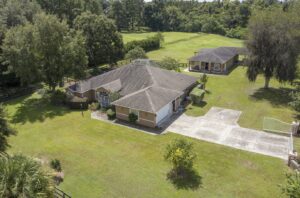 For a ranch home, what was an important element of function in the past is now an important element of design.
Windows were big to allow ample air flow. Windows on ranch homes now are still enormous, but they provide natural lighting now more than anything else. And even if your windows aren't wide, they should be tall.
The trim around the windows and other elements of the house is rather thin and can be found in white, black, or brown. The color you choose for your trim depends on the color of your siding.
For an even quainter and more historically accurate look, add shutters (functional or not!) to your windows. The addition of shutters is small, but can make a significant impact on the curb appeal of your home.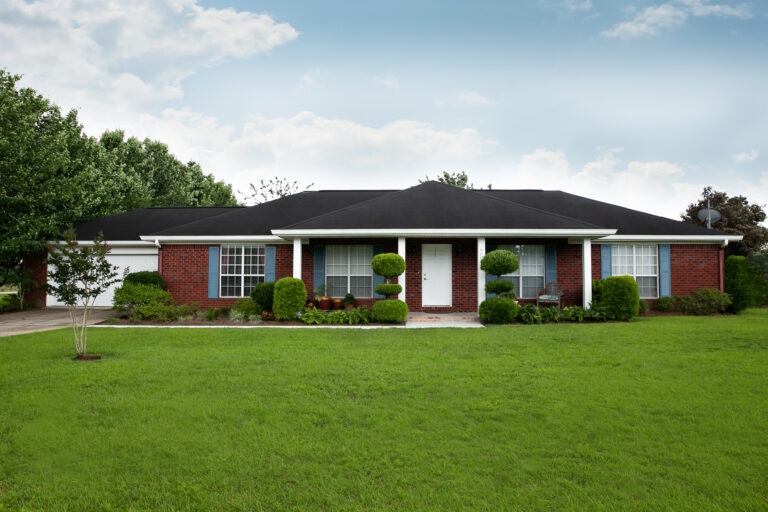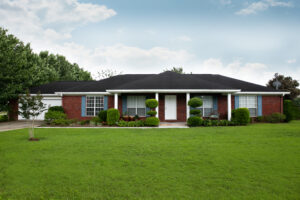 A Ranch Entryway and Door
Despite their notoriously asymmetrical shape, the ranch home features the entryway and front door right in the middle more often than not. Depending on whether or not you count the garage as part of the house, centering the door on the house can help make your home feel symmetric (or not).
The entryway is usually understated. There may occasionally be an extended overhang or a pair of columns on either side, but often, it is simply simple.
The front door can either be just as understated, or it may be bold; it doesn't matter for the ranch style. Many homeowners use the front door as an opportunity to add more color to their monochromatic exterior while others match the door to their trim or some other element of their house.
No matter your decision, a minimalist entryway and doorway are the essence of the ranch style.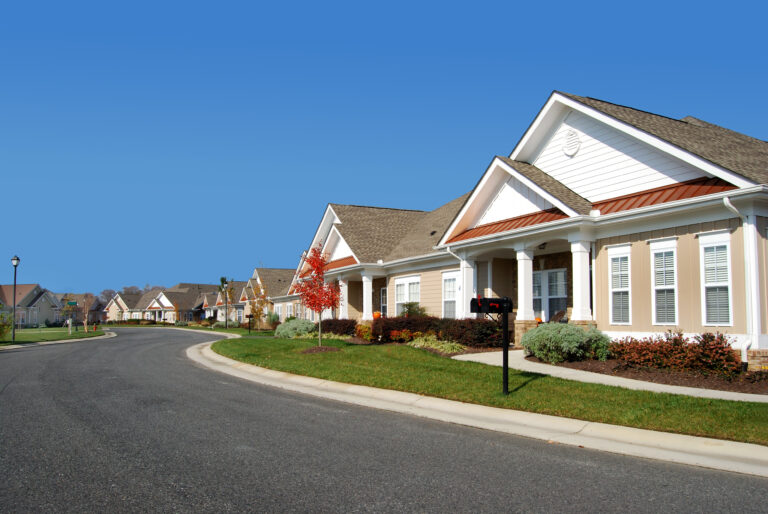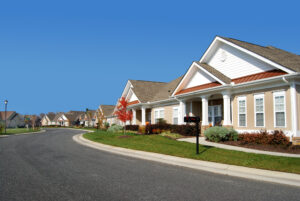 The Outdoor Living Space (aka The Ranch)
One feature that all ranch homes share is a big, open backyard.
In many of the home styles that preceded ranches, the front porch and front yard were the emphasis. The ranch style focuses on the private life of the backyard.
A sliding-glass door opens up to the immaculate backyard space where private life can thrive. Since the shape of the house is unique, several sliding-glass door entrances to the backyard are often used to create more of a courtyard patio.
On the patio, having a few seating areas decorated in neutral colored upholstery with pops of bright colors in accent pillows will create a warm environment. The backyard should make it easy to envision a BBQ or a kid's birthday party.
Besides the back patio, lots of lawn space is also key to the ranch style. Many homeowners are now sacrificing a portion of their expansive yard for an in-ground pool to further the appeal of outdoor living. Everyone loves a water feature, especially one you can cool off in.
Many housing styles adopted for our modern era have done away with colorful flora in their landscaping to create a more uniform look. The ranch house does not demand such a sacrifice, even today.
Color is your friend here. Since the house itself is rather simple in color, the time to have fun is in the landscaping.
Use shrubs, small trees, bushes, and flower plants to line the house, pathways, and driveways. Don't worry too much about the symmetry of making plants alternate or match on mirrored sides, but do have sharp lines between the lawn and the garden area to make it all seem neater.
Consider using textures that you used in the siding of your house. It will tie everything together and may add to the appeal and value of your home, just through exterior appearance alone.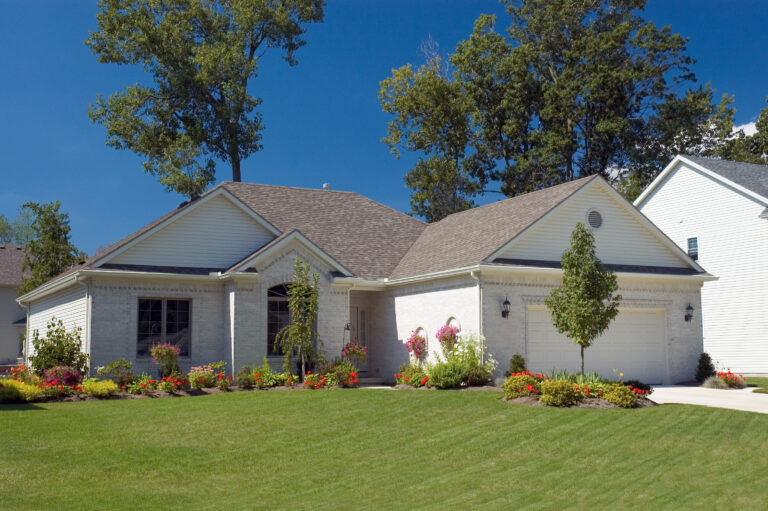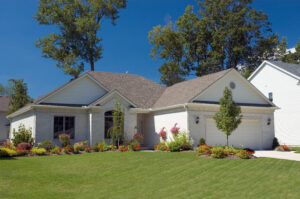 Conclusion
The ranch style home doesn't seem to be leaving us anytime soon, and we are glad. With its unique one-story floor plan, backyard emphasis, and colorful landscaping, it is an American treasure. Have fun with your rendition using our exterior makeover tips as your guide to a beautiful, classic home.
No matter what you decide for your ranch's makeover, keep in mind the history of the home. As we said before, for a ranch home, what was an important element of function in the past is now an important element of design.
References