Reading Time:
4
minutes
This is a comprehensive list of the best solar panels for RVs in 2021, which allows for easy comparison across panels. Comparable attributes include total watts, total cost, cost per watt, portability, inclusion of battery or inverter, stars out of 5 given by customers, warranty, listed applications, and bonus features. 
Why use solar on my RV?
Being off the grid and on solar allows many benefits to RV owners. 
First and foremost, we can travel for as long and as far as we'd like without having to stop for gas. Nothing is more exciting than being able to drive and camp for a week in Yellowstone without having to leave to find gas. 
Second, using solar energy rather than diesel fuel on an RV decreases costs in the long run. According to the calculations here, solar panels begin to save us money after five 1,000-mile trips. Each additional trip saves $500.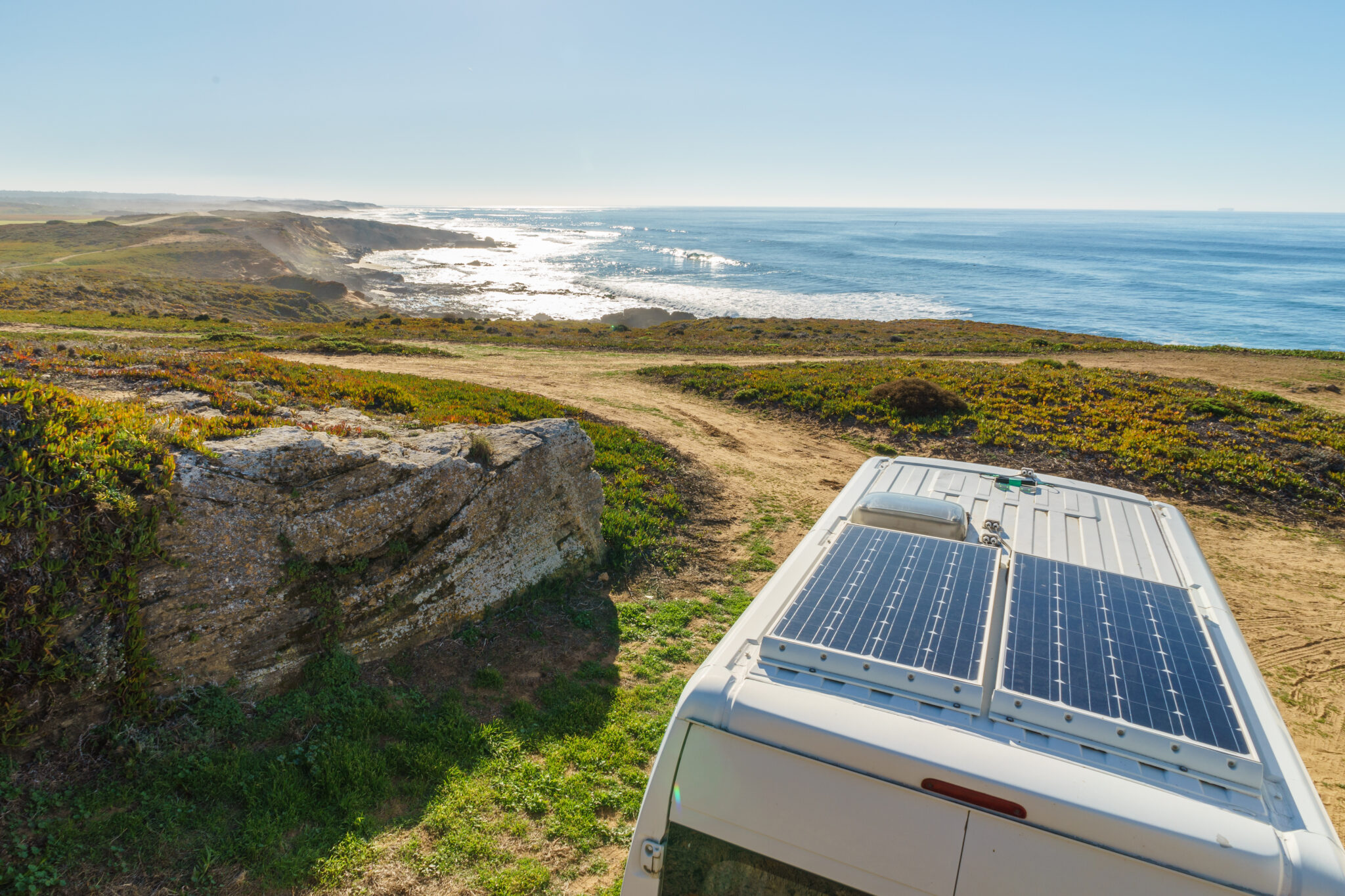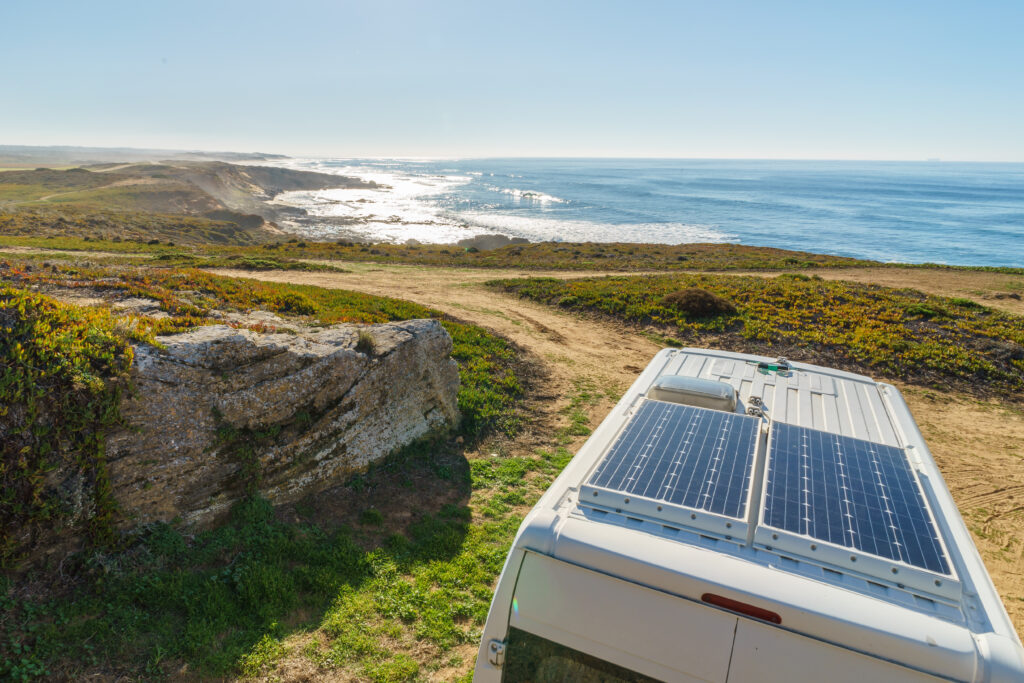 Finally, an RV running on solar emits no fossil fuels into the atmosphere. Climate change is increasing enormously from year to year, so it's important that we do what we can as individuals to help. 
Finding which solar panels are the best option for your particular needs can be challenging. There are thousands of products out there, and it's impossible to compare them all. We went through many of the solar panels marketed towards RV, outdoors, and off-the-grid applications. We found the top 20 based on cost and customer reviews, and ranked them by their wattage, cost, cost per watt, portability, stars out of five, warranty, applications, and other features. 
Many of these solar panels are also useful in applications ranging from camping
Hopefully this chart can help you find which solar panel is the best for your RV needs!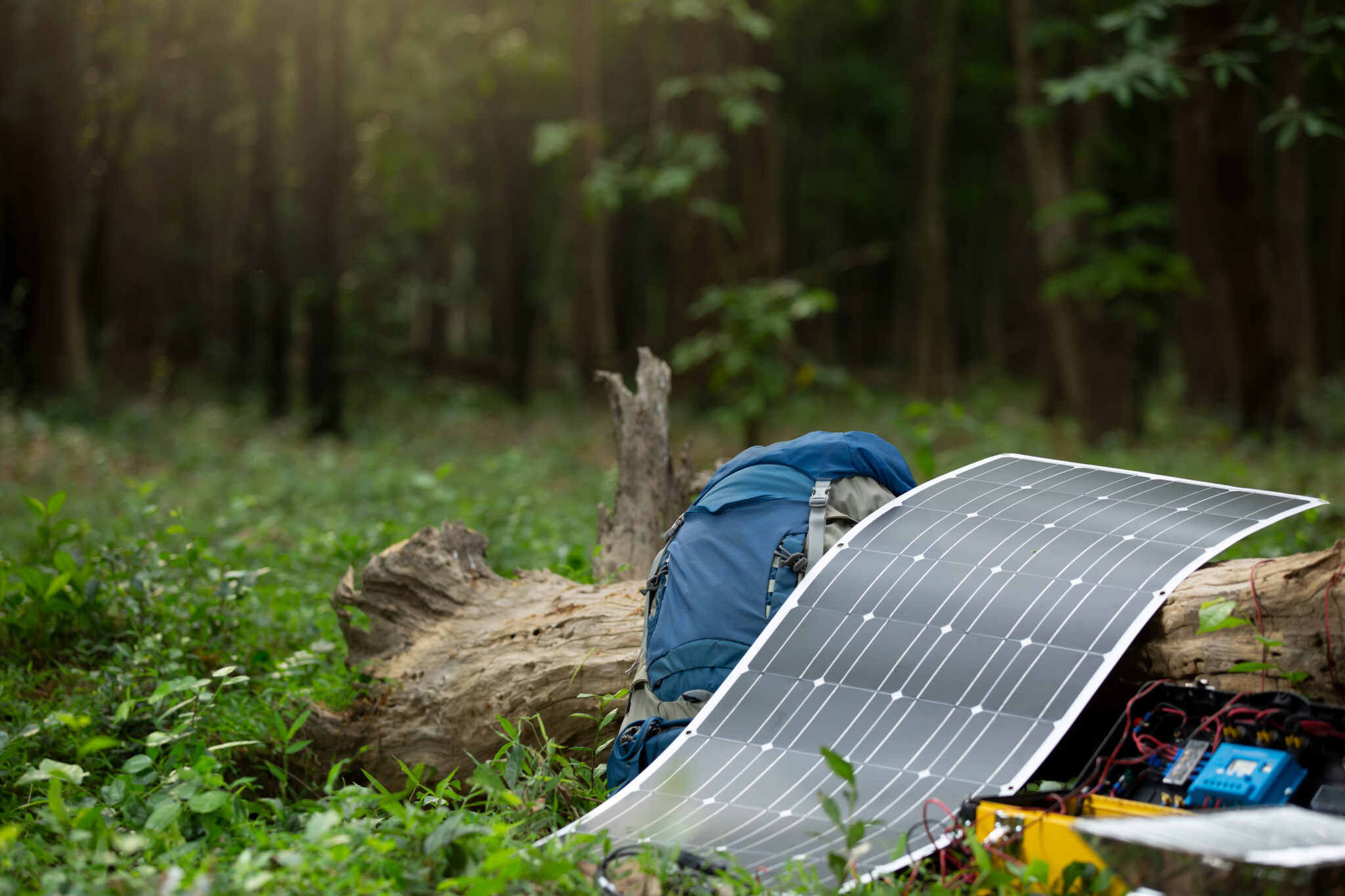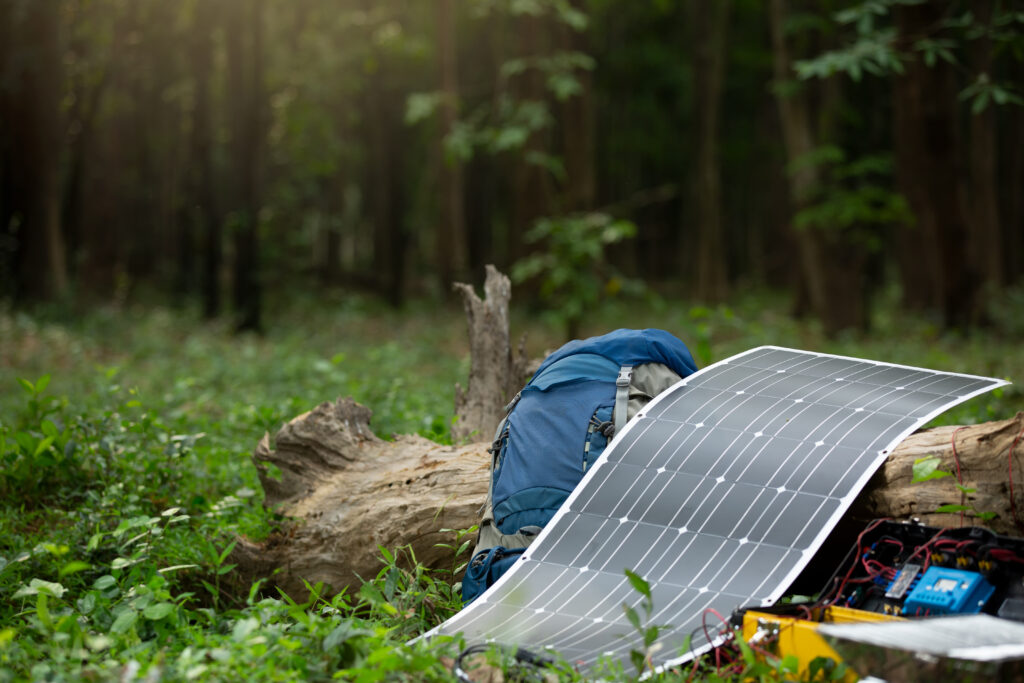 (Prices and other statistics last checked September 18, 2021.)
Best 20 solar panels for RVs
Solar Panel Name
Total Watts
Total Cost ($)
$/Watt
Portable?
Battery included?
Inverter included?
Stars out of 5
Warranty?
Applications
Bonus Features
Renogy 100 Watt 12 Volt Monocrystalline 
100
$97.74
$0.98
No
No
No
4.7
5-25 years
Battery charging boat, caravan, RV, any other off-grid applications

Withstands high wind speeds and snow loads

TP-solar Solar Panel Kit 20W 12V Monocrystalline 
20
$49.99
$2.50
Yes
No
No
4.4
Contact seller
RV, caravan, car, boat, greenhouse, dry camping, off-grid system

Small and light for easy portability, waterproof electronics box

DOKIO 100 Watt 12 Volt Monocrystalline 
100
$129.99
$1.30
Yes
No
No
4.4
Contact seller
Caravan, RV, boat, marine, camping, greenhouse, hiking, military use

Waterproof, carries like a briefcase

ALLPOWERS Portable Solar Panel Charger 
200
$289.00
$1.45
Yes
No
No
5
18 months
Camping, outdoor, garden, motorhome, and caravan

22% efficiency and 1/3 lighter than the same power of solar silicon

Renogy 200 Watts 12 Volts Monocrystalline 
200
$381.79
$1.99
No
No
No
4.5
Contact seller
RV

Specifically made for RV applications (easy to set up)

Go Power! Weekender SW Complete Solar 
160
$1,700.56
$10.63
Yes
No
Yes
4
Contact seller
Long weekend trips

Runs TV and other AC appliances

WindyNation Complete 400 Watt Solar Panel 
400
$759.98
$1.90
No
No
Yes
4.2
Contact seller
RV, cabin, home, boat, back-up and remote power

Provides plenty of AC power to run household appliances

ACOPOWER 100W Portable Solar Panel Kit, 
200
$485.99
$2.43
Yes
No
No
4.7
Contact seller
RV, camper, trailer

Transportation case, waterproof, outdoor durability, quick set-up

Go Power! Overlander 190W Solar Kit with 30-
190
$595.00
$3.13
Yes
No
Yes
4.7
25 years
RV, marine, cottage and cabin

Designed to charge two batteries at once

HQST 100W 12V Monocrystalline Solar Panel High 
100
$89.99
$0.90
No
Yes
Yes
4.6
3 years
RV, off-grid, camping, marine

Withstands high wind (2400Pa) and snow load (5400Pa). Corrosion-resistant.

SUNGOLDPOWER 130W Portable Foldable Solar 
130
$239.00
$1.84
Yes
No
No
4.5
Contact seller
Caravan, RV, golf car, electric car, yacht, boat, tent, backpack set

Corrosion-resistant frame for extended outdoor use

DOKIO 220 Watts 12 Volts Monocrystalline 
220
$234.99
$1.07
Yes
No
No
4.4
Contact seller
Home, nature trips, hiking, camping, climbing, fishing, picnic, sailing, RV, garage, other outdoor activities

Only weighs 10 lbs, protective fabric carrying pocket provided

DOKIO 110 Watts 12 Volts Monocrystalline 
110
$129.99
$1.18
Yes
No
No
4.4
Contact seller
Cars, motorcycles, boats, snowmobiles, camping, home, nature trips, hiking, fishing, picnic, sailing

Only weighs 6 lbs, protective fabric carrying pocket provided

Newpowa 210W(Watt) Solar Panel 
210
$215.90
$1.03
No
No
No
4.6
25 years
Rooftop, RV, marine, farm

Withstands highwinds (2400PA) and snow loads (5400PA)

Renogy 100 Watt 12 Volt Extremely Flexible 
100
$164.12
$1.64
No
No
No
4.6
Contact seller
Rooftop, RV, boats, any curvy surfaces

Ultra lightweight, extremely flexible, withstands extreme winds and snow

Renogy 100 Watt 12 Volt Monocrystalline 
100
$219.99
$2.20
Yes
No
No
4.7
Contact seller
RV, boat, trailer

Folds into a suitcase, corrosion-resistant frame

Zamp solar 140-watt Portable Charger Kit.
140
$644.88
$4.61
Yes
No
No
4.7
25 years
Camping, RVs

Increases battery life by 4 years

Renogy 100 Watt 12 Volt Monocrystalline 
100
$97.74
$0.98
No
No
No
4.7
5-25 years
RV, camping, beach trips, other off-grid applications
Long service life
Renogy 200 Watt Off Grid Portable Foldable Solar 
200
$504.89
$2.52
Yes
No
No
4.6
1-25 years available
RV

Waterproof, carries like a briefcase

BLUETTI AC200P Solar Generator with Panels 
2000
$2,589.99
$1.29
Yes
No
No
4.4
Contact seller
Solar, AC, Car, Generator, Lead-acid Battery Recharge, Outdoor