Reading Time:
5
minutes
Energy Efficiency in the Public Sector: Why the Government's Pro-Renewable Energy Stance Should Inspire us to Follow in Their Footsteps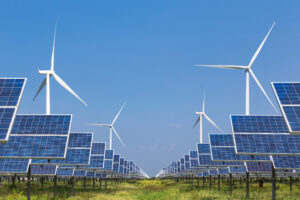 Googling "clean energy debate" returns 77.9 million results (which is, coincidentally, the same number of results as the query "Richard Nixon"). Searchers question whether or not transitioning to renewable energy should be a priority, whether the transition to renewable energy should be made in the private or public sector, and how quickly–if it all–we can switch over to 100% renewable energy.
Despite the highly politicized debate raging in the U.S. of A., the government has moved towards promoting renewable energy, and their commitment to cleaner energy should inspire us to invest in it as well. Here are just a few of the efforts they've made over the past few years:
As of 2020, the U.S. government has invested almost 300 billion dollars in clean energy (statista.com), which is a lot of money. They gave $8 billion to support energy research and development (including primarily research in areas of renewable energy) in 2020 alone (itif.org).
They've also been working on improving the energy-efficiency of their buildings. "From 1988 through 2012, the site energy intensity (consumption divided by floor area) in U.S. federal buildings decreased by 30 percent" (usaid.gov). The federal government had decreased its energy consumption by thirty percent–and by now it's probably closer to forty–which is a clear sign that they are on the renewable energy bandwagon.
One famous public government-funded renewable energy project is Millennium Park, in Chicago. It cost $490 million to build, was funded partially by the local government, and houses the world's largest green roof.
The U.S. government also spent $45.8 billion on tax incentives to the private sector from 2005 to 2015 (energy.gov) as motivation for private citizens to invest in renewable energy. These allow for private citizens to more easily find it within their means to invest.
There are many reasons that the government has been moving towards renewable energy. But the primary reason is by far the simplest: saving energy saves money (usaid.gov). Investing in cleaner and more renewable energy saves the government billions of dollars in the long run (and we all know how much the government needs this money).
The government is home to some of the brightest minds in our nation (although sometimes this feels debatable). But the federal economists and businessmen have calculated that investing in renewable energy "offers a good return on investment and makes good business sense" (usaid.gov).
While we might not have billions of dollars to invest, we might have thousands. And even just investing these thousands of dollars in renewable energy has been proven to offer a good return on investment. An oft-quoted and well-proven statistic explains that investing $15,000 on solar panels now will pay itself off and earn you back $20,000 in the proceeding 20 years.
Another reason the government has moved towards renewable energy is to send a message to us. They want us to understand the importance of energy conservation, and try to set an example. Because of the ever-changing faces in the government, this message may sometimes get lost. But the overarching theme since the 1990s has been a push toward cleaner energy.
For example, in 1993, President Clinton signed Executive Order 12845. This required the federal government to purchase exclusively ENERGY STAR computers and monitors. This significantly increased the market value of ENERGY STAR products and gave them great publicity, and is arguably the primary reason that they are still so popular today, thirty years later.
Scientists have proven time and again the environmental and economic importance of investing now in clean energy, and the government has given us the proof we need through their example. All that's left for us to do now is to do the same: invest. For the environment, our finances, and as an example for our neighbors.
So while there is a huge renewable energy debate occurring throughout our country, the government has already solidly put its foot down on the side of clean energy, and has been paid back tenfold for its investments. It has set the example for us, and has given us proof that it works; all that's left is for us to take the first steps towards cleaner energy for ourselves.
References:
https://pdf.usaid.gov/pdf_docs/PBAAE098.pdf
"For many policy makers, there is one simple compelling reason to pursue energy conservation: saving energy saves money. Money is often in short supply in the public sector, and savings in energy costs can be used to support mission-critical programs, improve infrastructure, or reduce government debt. Improving energy efficiency offers a good return on investment and makes good business sense. It can be a cornerstone for broader government sector reforms and performance-based management."
"From 1988 through 2012, the site energy intensity (consumption divided by floor area) in U.S. federal buildings decreased by 30 percent."
"In the United States, government buildings account for about 21 percent of floor space and 25 percent of [total] energy use. Interestingly, the majority of government spending, floor space, employment, and energy use are at the state and municipal levels—over 75 percent. Still, total government spending (federal, state, and local) accounts for about 16 percent of GDP (World Bank 2013), and the U.S. federal government by itself is estimated to be the world's largest buyer of most energy-related products and services (Harris and Johnson 2000)."
"in order to send a clear signal to the market, it is essential that government policies, purchasing and construction specifications, and other contracting requirements use clear, consistent, and widely publicized energy conservation criteria."
"By demanding energy-efficient products for their own use, government agencies are most likely to prompt manufacturers and suppliers to respond by offering more efficient products at competitive prices. This occurred in the U.S. in 1993 when President Clinton signed Executive Order 12845, requiring the federal government to purchase exclusively ENERGY STAR® computers and monitors (i.e., ones with the ability to automatically switch into a low-power "sleep" mode after a set time). At the time, this was a new feature and program. Because of the magnitude (and resulting influence) of federal procurement, by 2000 the overall market share of ENERGY STAR computers and monitors was estimated to be 80 percent and 95 percent, respectively (Brown 2000). In addition, government provides powerful motivation for others to follow its lead when it is among the first to take energy- saving actions, and then shares its experience, publicizing its practices, specifications, and results with private enterprises and consumers."
"Along with the compelling reasons already discussed, improving energy efficiency in government facilities and operations can have positive side benefits that may support additional public policy goals."
https://www.aceee.org/files/proceedings/2016/data/papers/7_536.pdf

90% of Democrats prioritize renewables over fossil fuels, compared to only 62% of Republicans.
"Overall, about three-quarters of Americans (77%) agree that the more important energy priority should be developing alternative energy sources such as wind and solar power and hydrogen technology rather than increasing U.S. production of fossil fuels."
"The Republican Party has come under a lot of criticisms for its stance supporting the use of oil and natural gas resources, but the party has also supported the development of renewal resources for long-term energy independence. This stance has become increasingly vocal in the last few years as concerns over the environment increase. The party believes that the best way to promote the development of renewable energy is through the private sector. To this effect, they believe that tax reductions and other incentives for business can help promote research into the field."
https://www.sciencedirect.com/science/article/abs/pii/S0301421520302019
https://library.cqpress.com/cqresearcher/document.php?id=cqresrre2019031500
https://www.vox.com/energy-and-environment/2017/4/4/14942764/100-renewable-energy-debate
The energy debate: Renewable energy cannot replace fossil fuels
https://www.forbes.com/sites/uhenergy/2018/03/23/renewable-energy-subsidies-yes-or-no/#2596a78f6e23
https://itif.org/publications/2020/03/30/energy-innovation-fy-2021-budget-congress-should-lead
https://www.energy.gov/sites/prod/files/2018/11/f57/Examination%20of%20Federal%20Financial%20Assistance%20in%20the%20Renewable%20Energy%20Mark…_1.pdf
https://www.statista.com/statistics/186818/north-american-investment-in-sustainable-energy-since-2004/